WHAT SIZE BMX STEM DO YOU NEED?
Author: Cooper Date Posted:7 August 2020
From first look, choosing a BMX stem can seem to be a fairly simple option. You either want a top load or front load stem yeah? Well not exactly, you see stems also have different reach lengths and also rise lengths which can really change the way your bike feels and looks.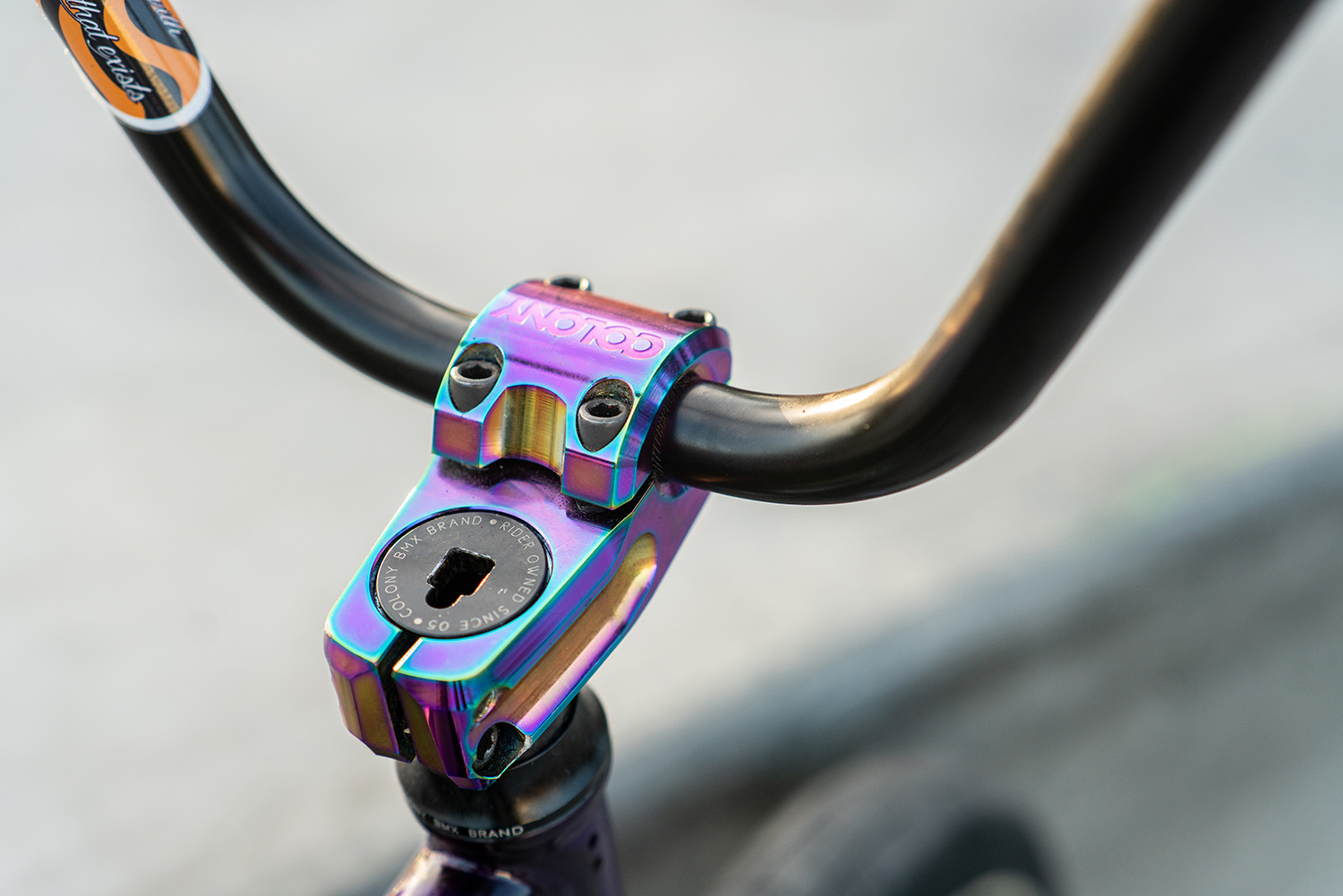 WHAT'S THE DIFFERENCE BETWEEN TOP LOAD AND FRONT LOAD STEMS?
Your first decission you need to make is what style stem do you want. In this day and age I would say 90% of riders are running a top load stem but that doesn't mean it's always the right choice.
TOP LOAD STEMS
Top load stems give you more height which in turn makes your bars and the overall height of your bike taller. This is when you also need to look at the "rise" of the stem because top load stems can range from around 22mm rise (Cult Redemption) all the way up to around 35mm rise (Division ACG). So that's half an inch in differnce just in rise heights which can alter the bars you might want to run. For example, maybe you really like the feel of Colony Tenacious bars with 10" rise but don't really need the height so you could run a Cult Redemption stem which will lower the bars down to a 9.5" rise bars feel. This can work both ways because you could run a Colony Square Back with a 33mm rise but then get a set of Colony Hardy V2 bars with a rise of 8.8" and still get a fairly high front end feel.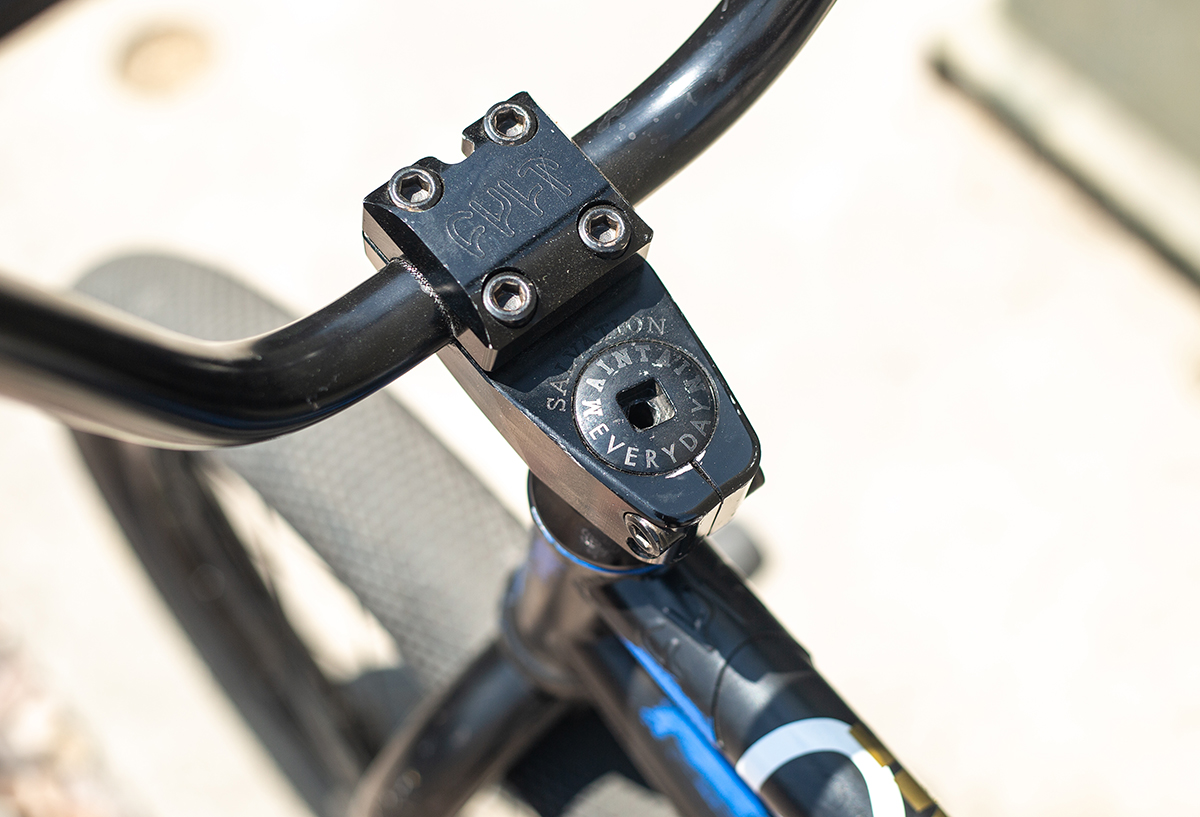 FRONT LOAD STEMS
These have more of a traditional "mid school" look which some people prefer. Front load stems like the Colony Official also give you a lower front end feel and look as there is no rise on them. So as how I explained previously, you could get a set of Division Balata bars which have a 9.5" rise to still give you a fairly tall front end but keep that look you might prefer.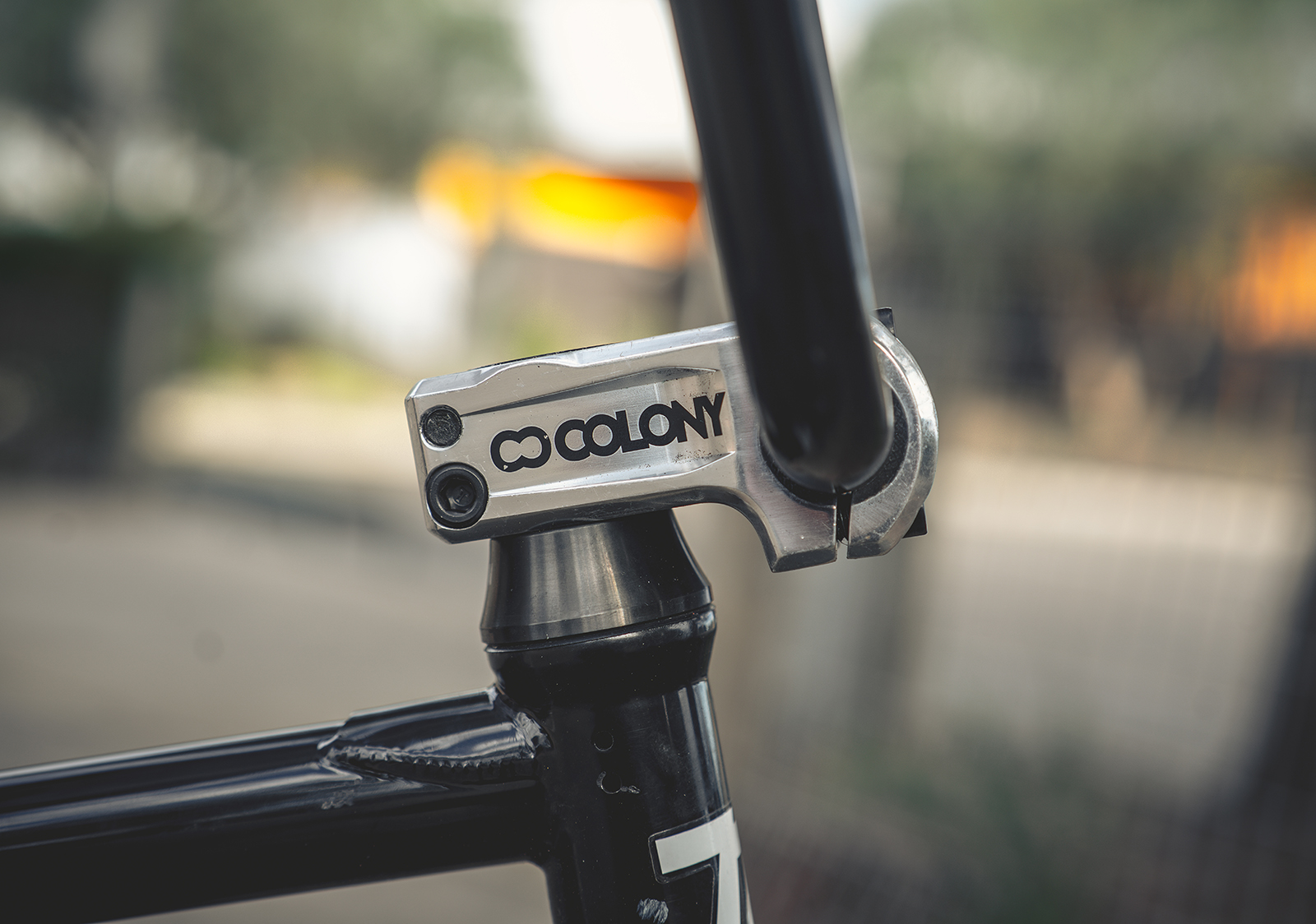 HOW DO I MEASURE A BMX STEM?
The 2 main factors when measuring a stem would be the rise and reach of it. There are other factors such as the stack height and exntesion measurement but they are both not commonly looked into when buying a new stem.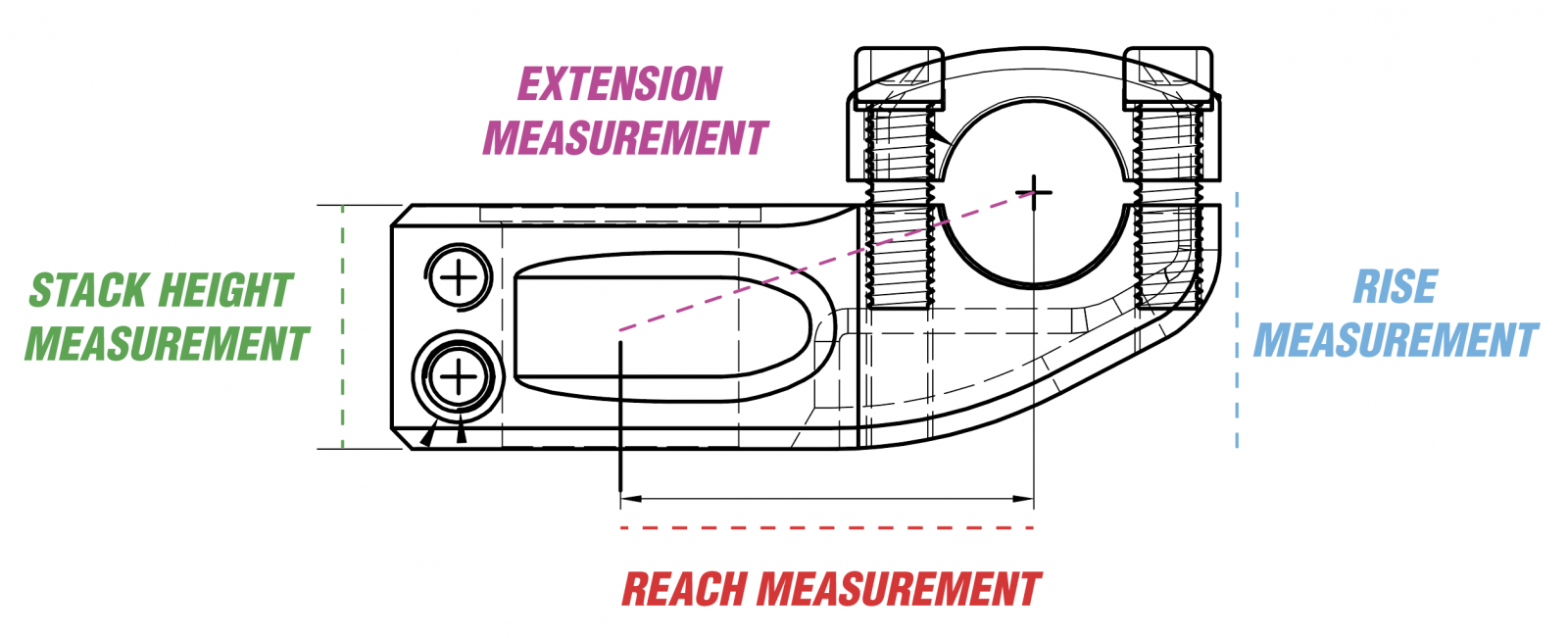 THE REACH OF A BMX STEM
The reach doesn't differ all that much but can affect the feel of your ride. Generally a stem reach is 50mm which is measured from the centre of the steer tube hole to the centre of the bars hole. You can get stems like the Cult Redemption with a 48mm reach. A longer stem reach will make your bike feel longer which ties into things such as a longer rear end so sometimes you might find trails riders choosing a longer stem reach compared to normal just for a bit of extra stability flowing through a set of trails. Then you have stems like the Colony Exon II which has a reach of 40mm which is aimed more at flatland riders because it keeps the front end much more compact and straighter as they spend more time over their bars then a park or street rider would.
You can also think of it in terms of what top tube length your frame is as the reach will also have an impact of the feel of that because a longer reach stem can compensate if you feel like you have a slightly shorter top tube length that you want and vice versa.
THE RISE OF A BMX STEM
As I mentioned earlier, the rise in a top load stem can vary quite a bit so it's something to be very mindful of when choosing which one you prefer. The rise in a front load stem does't vary as much as top loads but still worth knowing so that can compare.
The rise is measured from the bottom of the stem to the middle of the bars clamping hole as per the diagram above.
BMX STEM MATERIAL
There's basically 2 types of material used when making BMX stems, either 7075 Aluminium or 6061 Aluminium, Both materials are great quality but 7075 is the stronger material and also lighter but in tern more expensive. You will find the Colony Square Back stem is made from 7075 where as both Cult stems and the Division ACG stem are made from 6061. I've run stems made from both materials and never had an issue with either so I honestly don't think it's the be all and end all.
FORGED VS CNC STEMS
Primarily stems are CNC machined as you can create a more detailed looking stem and able to remove meterial in areas without compromising strength as it'd done using precise computer equiptment. Stems such as the Colony Square Back, Division ACG an Cult Salvation are all CNC machined.
Forged stems are also strong but because they are forged from a raw block of material using heat and pressue you can't get as cleaner of a look compared to CNC machining. Forged stems are cheaper but you need to produce a larger quantity of them to work which more often than not isn't viable for BMX brands to do. Cult produce a good looking forged version of their Salvation stem.
You will commonly find forged stems on complete bikes as they are mass produced compared to after market parts which in turn helps keep the pricing down on the bikes.
We stock a large range of stems which you can check out right here.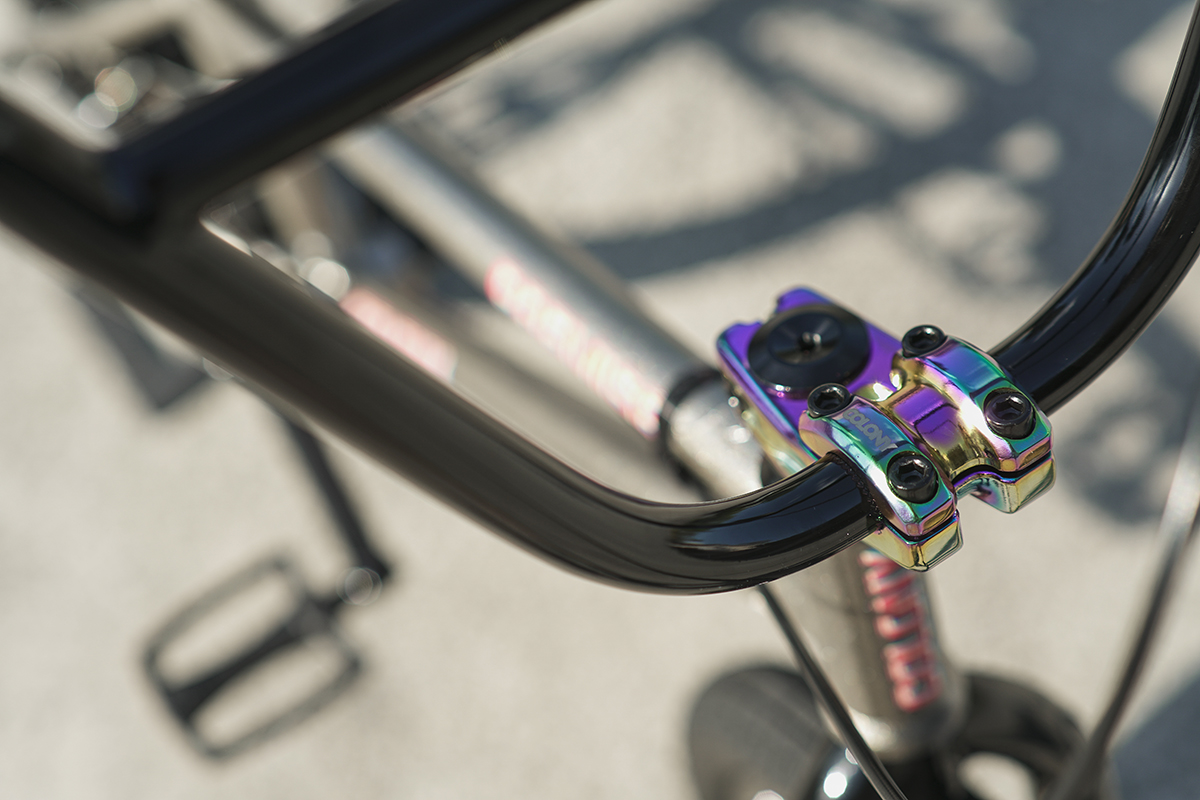 ---
Leave a comment